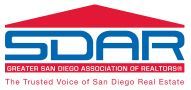 The following statistical information is compiled from data in San Diego MLS Multiple Listing Service. San Diego MLS information is herein believed reliable but not guaranteed.
Contact Us
We help our members sell more homes.
We help people realize the dream of homeownership. We are dedicated to protecting private property rights.
Greater San Diego Association of REALTORS®

Business Rating
Click Here to
view profile​​​​​​​