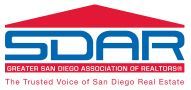 Membership Services
REALTOR® Allocations
2018 REALTOR® Allocation:
SDAR (Local): $110
C.A.R. (State): $284
NAR (National): $155
Total: $549*
Total: $623 Total (includes Voluntary
& Philanthropic options)
Due Dates:
Due January 3, 2018

​​​​​​​Terminated 2/23/18 with a $25.00 late fee and $30.00 C.A.R reinstatement fee.

If allocation bifurcated, second portion due July 2, 2018.
Allocations prorated monthly:
C.A.R. Application Fee: $30
SDAR Application Fee: $65
Orientation Fee: $25
(Includes 4hr of CalBRE Credit)
2018 Legal Notice - Click here
Secondary Membership
Secondary members are members who belong to another association but choose to also belong to SDAR and have access to all of the benefits that SDAR membership has to offer including discounts for classes and services.
SDAR (Local): $110
SDAR empowers members to be greater in all aspects of their business. To do this we continually invest in resources, tools, education, programs, and services. Learn more about SDAR Membership Click Here Join SDAR today! See the benefits of SDAR Membership Click Here
Contact Us
We help our members sell more homes.
We help people realize the dream of homeownership. We are dedicated to protecting private property rights.
Greater San Diego Association of REALTORS®

Business Rating
Click Here to
view profile​​​​​​​