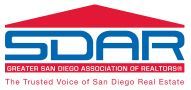 Rules
​​​​​​​Variance Request

Procedures

Realist EULA​​​​​​​
Rules and Regulations
Sandicor Rules and Regulations Document
Appendix A - Citation Enforcement Policy
Appendix B - Schedule of Fines
Appendix C - Variance Request
Appendix C-1 Variance Request Supplement
Appendix D - Electronic KeyCard Usage Agreement
Appendix E - Authorization to Exclude Form
Fine Appeal Form
Sandicor MLS Short Sale Do's and Don'ts
Formal Rules Violation Report
Credit Card Payment Form
Rules Every Member Should Know!
Contact Us
We help our members sell more homes.
We help people realize the dream of homeownership. We are dedicated to protecting private property rights.
Greater San Diego Association of REALTORS®

Business Rating
Click Here to
view profile​​​​​​​