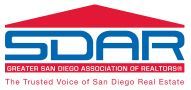 San Diego County Tours & Caravans
SDAR is pleased to offer members several different opportunities to promote their listings. Utilize one of our weekly caravan tours, post an open house on SDAR.com, or advertise your flyer at SDAR service centers. Please choose a caravan below.

Caravan Area 1 | Caravan Area 2 | Caravan Area 3

Local San Diego Caravan and Tour information is updated regularly, and to the best of our ability. If you have changes in time / location / contact information for a local caravan, please contact Roland Arevalo or call 858-715-8015. For Caravan and Tour information in other areas of the county, please visit Sandicor's website.
​​​​​​​
Promoting local events or information? SDAR can post a PDF of a flyer or promotional information about events sponsored by local caravans / tours. E-mail the PDF to [email protected] and SDAR will include it in the appropriate Caravan calendar information.
Submit an Open House
SDAR offers you opportunities to advertise your open houses for free each week. Each week you may submit listings which we will post on our website.

​​​​​​​Carvan Connection Flyer
The Caravan Connection is printed and distributed to the various caravan tours. Advertising opportunities are available. Contact [email protected] for more information. View the latest issue:
Caravan Connection