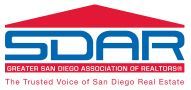 San Diego MLS Training Department handles all aspects of training associated with the Paragon software as well as associated MLS products, such as CRS tax.
Service Center Training
San Diego MLS trainers present live workshops at the local Association of REALTORS® Service Centers throughout San Diego County. Workshop dates for the Service Centers can be found on San Diego MLS Training Calendar on the Home Page of this site, with registration taking place on the Association of REALTOR® Service web sites, or through an email/phone call to the Service Center.
Greater San Diego Association of REALTORS® (GSDAR)
Website: www.sdar.com
Phone: 858-715-8000
Office Training
San Diego MLS trainers are currently providing Paragon training for individual real estate offices at the request of the Broker or Office Manager, with a minimum of 5 agents in attendance. Office training can be requested by contacting:
Phone: (858) 726-9657​​​​​​​
Email: [email protected]
CRS Training and Live Webinars
How do I Register and Attend Live Webinars?
To register just click the Register Here button.
Once you fill in the registration form you will receive a confirming email with a link that will be live the day and time of the webinar.
You will also receive a webinar reminder email 1 week before, and then also 1 day before the webinar.
On the day of the webinar you should click on it 5 minutes before the webinar starts and that will allow you to see the trainer's computer screen. You then will be able to hear the trainer speak through your computer speakers, or if you don't have speakers there will be a phone number visible on the screen that you will be able to dial on your phone.
What is a Webinar?
A webinar is a Web-Based Seminar. Attending a webinar is like attending any seminar in a conference room except you don't leave the comfort of your home or office. You use your computer to view the presentation through your web browser (Internet Explorer, Firefox, etc). and listen to the audio through your computer speakers or telephone. A key feature of a Webinar is its interactive elements — the ability to give, receive and discuss information. There is a written chat option on the screen where you can type in your questions and the presenter will answer them for the whole group.
Why Should I Attend?
Attending a Webinar gives you the opportunity to see and hear live presentations without leaving your home or office. San Diego MLS has training webinars on PARAGON™ and other software products that we offer to all our members. After the presentation, the recorded video will be available so you can watch it as many times as you need to.
What Do I Need to Attend?
All you need is a computer with access to the Internet. No special software is required to participate, only the ability to log into the web site given in your Webinar confirmation email. In order to hear the presenter, you can use your computer speakers or call the phone number given in the confirmation email. If you are able to play YouTube videos with sound your computer speakers should work fine for webinars.
CRS Training Schedule & Videos
Contact Us
We help our members sell more homes.
We help people realize the dream of homeownership. We are dedicated to protecting private property rights.
Greater San Diego Association of REALTORS®

Business Rating
Click Here to
view profile​​​​​​​