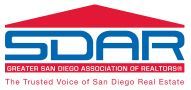 If you are an SDAR member, just log in with your member number and select the products you want. If you are not a member, you may purchase all items except those with the REALTOR® logo. To log in, just go to the Member Login page, and look for: "Click here to sign up to use Internet Member Services." You will be prompted to review the SDAR Privacy Policy and then complete a form to receive a member number to shop online.
SDAR Members receive preferred pricing on store items and they receive an additional 3% discount for shopping online. For membership information, visit Membership.
Although we are here to serve you, we are not able to provide legal advice. To assist you, here are some sources for you to consider: your Broker, your attorney, or the California Association of REALTORS® (C.A.R.) Legal Hotline (213) 739-8282, www.car.org. If you would like information about zipForm®, click here.
​​​​​​​
Be Your Homebuyer's Hero
The California Housing Finance Agency has down payment and closing cost programs that can help your homebuyers. We specialize in people who have solid credit and good jobs, but can't quite get over those two initial costs. Give us a call at 877.922.5432 to find out more, or check out our website for all the details. With CalHFA's help, you can be your homebuyer's hero today.
Learn More