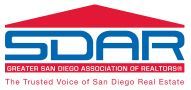 Getting Started on the MLS
This new learning tract is great for new agents or agents returning to the business!
It will quickly get you started using the MLS tools San Diego MLS provides plus a sampling of the
dynamic products and resources available for your success.

Contact Us
We help our members sell more homes.
We help people realize the dream of homeownership. We are dedicated to protecting private property rights.
Greater San Diego Association of REALTORS®

Business Rating
Click Here to
view profile​​​​​​​