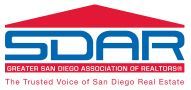 MEMBERSHIP SERVICES
Forms and Contracts
Sandicor MLS Listing Input Forms
For all MLS input forms including residential, commercial, IDX, and reciprocal, look no further. All of the latest and up to date forms can be found here:
​​​​​​​
Sandicor Forms
This form allows designated brokers to authorize specific signing and charging privileges to specific individuals. A current copy of this form must be filed with SDAR to activate or ensure uninterrupted signing and charging privileges. This form must be filed or renewed at the beginning of every year or an interruption in service will occur.
To change your firm's information or status, e.g., activate or inactivate MLS services, open or close a branch office or update office information.
To affiliate, transfer or sever an agent from an office.
Contact Us
We help our members sell more homes.
We help people realize the dream of homeownership. We are dedicated to protecting private property rights.
Greater San Diego Association of REALTORS®

Business Rating
Click Here to
view profile​​​​​​​